Is Your Pool Drain Safe? In compliance with the new Virginia Graeme Baker Pool and Spa Safety Act which was put in place to enhance the safety of swimming pools, spas and hot tubs. This Act sets federal mandate that suction and entrapment devices be changed to become in compliance with the new Act. This includes new pool drain covers in addition to many other changes and requirements that must be met under penalty of the law. Hayward is one of those companies that take your safety s...
Read More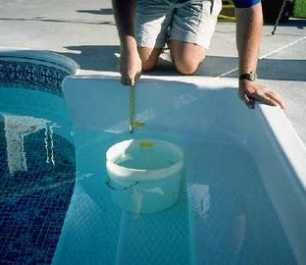 Evaporation is dependent on a variety of environmental and pool related conditions, (wind, water temp, dew point, barometric pressure, and other to a lesser extent). Because of this the evaporation rate can vary greatly from day to day and even pool to pool. Before becoming too concerned about a leak you can do a simple test to determine if water loss in your swimming pool is due to a leak or is just evaporation. This simple test is called the bucket test. Leak Detection Bucket Test Pro...
Read More

DIAMOND BRITE Finishes are blends of selected quartz aggregates and fortified white portland cement ideal for new or re-finished swimming pools.  Available in a variety of colors and textures.  Diamond Brite finishes are factory blended to provide the pool owner with an extremely durable and attractive alternative to traditional pool coatings. Some Diamond Brite Colors Options: BOND KOTE Specially formulated two part cementitous coating, designed to be used as...
Read More

Maintenance Finally! No more carrying corrosive, dangerous chemicals that only deteriorate your car. Say goodbye to an unbalanced pool and hello to TOTAL relaxation and peace of mind. Just choose a plan, and we'll start servicing your pool right away. Premium Full Service STANDARD Mini Service BASIC Chemical Balance Starting at $49.95 per month No Contracts Pool Standard Size: 15×30 Total Chemical Balance (Chlorine,PH,Bicarbonate,Calcium & Stabili...
Read More