The New Pool Owner's Discovery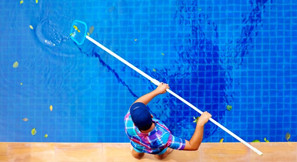 If you have recently added a new backyard swimming pool to your home, you probably have made the unexpected discovery that every pool owner eventually makes: Swimming pools require a lot of work to maintain.
When you were dreaming of adding a pool, you probably imagined fun pool parties with your family and friends, relaxing moments floating in the water all alone, and quality family-time around as you relaxed around your pool after a long day at work.
What you probably didn't imagine is all the time you would need to spend cleaning debris from the pool surface, vacuuming the bottom, measuring and adjusting the pool chemicals, and maintaining and repairing your pool equipment.
Pool Service Fort Lauderdale — The Pool Dilemma
Those aren't the things they emphasize in the pool sales brochure. While pools are a lot of fun — and can add value to your home — they also are a lot of work. Like, a lot.
So sooner or later every new pool owner comes to the realization that what they dreamed about and what having a pool actually is are two very different things. Fortunately, there's a way to turn your dream of care-free pool enjoyment into reality. And it all begins with Aqua Buddy Pools.
Pool Service Fort Lauderdale — The Pool Solution
When you let the experienced professionals at Aqua Buddy Pools care for and maintain your pool for you, it's possible to live the dream of enjoying your backyard swimming pool without having to do all the required work. Our team of knowledgeable, trained pool technicians can keep your pool in optimal condition so that all you need to do is enjoy it.
They don't tell you about all the work that goes into having a pool in the sales brochure. But when you let Aqua Buddy take care of it for you, you can truly have the pool of your dreams.