In South Florida, There's No Such Thing as an Off-Season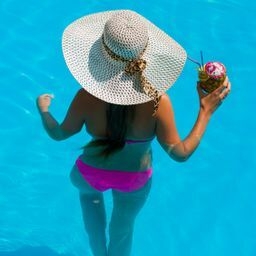 When you live in South Florida, there's no end to the warm weather. It's why we live here!
In South Florida, even in the midst of winter the air temperature rarely gets cool enough to keep us out of our swimming pools. So all year round, we can swim, play, and enjoy our backyard swimming pools even when the rest of the country is shoveling snow and complaining about the slipper, ice-covered streets.
How cool is that?!
Pool Service Fort Lauderdale — Attracting the Snowbirds
No wonder South Florida is so popular in the winter months. When the rest of the country is freezing cold, we are still enjoying warm, sunny, and even humid weather.
That's the perfect bait to attract the snowbirds from up north. During the winter months, Florida is literally invaded by visitors from cooler climates seeking the tropical temperatures and luxurious lifestyle that we South Florida residents take for granted.
So if you have a backyard swimming pool and are expecting visitors from up north this holiday season, get your pool ready by having it serviced by the professional, experienced pool technicians from Aqua Buddy Pools.
Pool Service Fort Lauderdale — Safe Swimming for the Whole Family
Aqua Buddy can keep your pool clean and safe all winter long so that you can impress your guests with a shimmering, clear pool even in the middle of "winter".
It seems like everybody wants to spend time in our area once the weather takes a turn for the worst up north. It's just human nature.
There's a reason so many people descend on South Florida during the winter months. It's because we have something that they don't': Warm weather practically all year round. So this year, get ready for winter by preparing your pool with a visit from Aqua Buddy.