SPECIALS AND PROMOTION DETAILS   Coupon Head Full Service for $49.99 per month Offer available for a limited time only. Price changes to full amount after three months of service. Residential Pools only. Full trial amount ($149.97) due upon opening account. No contracts required. If the pool is green and needs a shock treatment, a separate charge for that will be applied.  Valid from April 1, 2014. Valid for NEW ACCOUNTS ONLY.. One-time only per address. CANNOT BE COMBINED WITH ANY OT...
Read More
SHOCK TREATMENT - $190.00 Pools and spas that have not had chemical treatment in a long time will turn green because of algae and rapidly growing and spreading bacteria. Our chemical formulas will eradicate bacteria and other potentially harmful microorganisms from your swimming pool, protecting your swimmers against illnesses and infections. In the Swim's pool shock and super chlorinating chemicals will also take your pool water from cloudy to clear by eliminating algae and a wide variety ...
Read More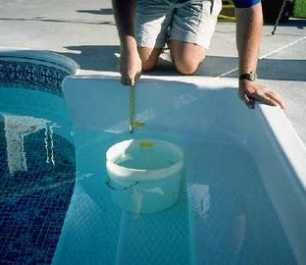 Evaporation is dependent on a variety of environmental and pool related conditions, (wind, water temp, dew point, barometric pressure, and other to a lesser extent). Because of this the evaporation rate can vary greatly from day to day and even pool to pool. Before becoming too concerned about a leak you can do a simple test to determine if water loss in your swimming pool is due to a leak or is just evaporation. This simple test is called the bucket test. Leak Detection Bucket Test Pro...
Read More