Restoring Your Pool to Normal after a Major Storm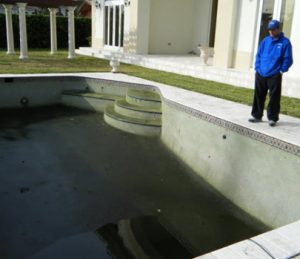 Hurricane Irma left behind a swath of destruction and damage from the Florida Keys all the way up to the Panhandle. It was one of the worst storms on record.
Coming back from this natural disaster is going to take some time. In the days, weeks, and months ahead there is going to be a lot of hard work. There also are bound to be obstacles and setbacks.
But the people of Florida are strong and resilient. And if we work together, we can accomplish anything.
Pool Service Pompano Beach — Your Backyard Swimming Pool
Your backyard swimming pool may not be the first thing to worry about after a major hurricane. The safety and security of your family and your home obviously takes priority over everything else.
But eventually, you are going to want to get your pool back up and running. And when it's time, Aqua Buddy Pools will be there to help.
Pool  Service Pompano Beach — Avoid Immediate Dangers
Before you even approach your backyard swimming pools, it's important to survey the area for any immediate dangers. These can include downed power lines, broken glass or other sharp objects, and other hazards.
If you aren't sure that the area around your backyard or pool is safe, stay out. Tree branches and other dangers could make your backyard unsafe.
Pool Service Pompano Beach — After the Danger Passes
Once your swimming pool area has been deemed safe, you are going to want to check on the condition of your pool, including surface walls, major equipment, and debris that may have sunk to the bottom.
In the immediate aftermath of the storm, your pool may look disastrous. But rest assured that given time, effort, and determination, together we can return your pool — and your everyday lives — back to normal.
There's no keeping the people of  Florida down. Together we will endure.