This Pool Season, Leave the Cleaning and Maintenance to Us!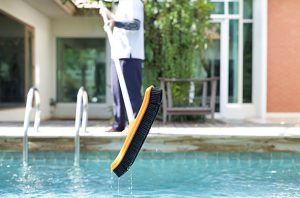 Having a backyard swimming pool is one of life's simple pleasures. Whether you have an in-ground pool or an above-ground pool, you can enjoy the fun and excitement of swimming, socializing, and even just hanging out all in the comfort and security of your own backyard.
But having a pool also can be a lot of work. And after the first couple of years of having your own pool, the labor of cleaning and maintaining your pool can take away from the pleasure of enjoying it.
Pool Service Fort Lauderdale — Leave It to the Professionals
That's why this pool season you should consider hiring Aqua Buddy Pools to take care of your pool for you.
You didn't go to the trouble and expense of building a backyard swimming pool because you wanted to sweat over tasks like cleaning, maintaining the equipment, balancing the chemicals, and constantly vacuuming the bottom of your swimming pool. Instead, you simply wanted to enjoy the serenity of pleasure of having your own swimming pool all to yourself.
Well, now you can. The professional pool technicians can take care of all the cleaning, maintenance and repairs required to keep your pool in optimal condition throughout the entire swimming season so you can focus on what's most important: Having fun with your family, friends, and neighbors in your own personal backyard swimming pool.
Pool Service Fort Lauderdale — Quality Care
When you tackle the responsibility of cleaning and maintaining your pool on your own, there's often a steep learning curve. How many chemicals need to be added to the water? What is the proper pH balance? How frequently do the surface and bottom need to be cleaned?
One small mistake can be disastrous. But when you leave it up to the professionals at Aqua Buddy Pools, you never have to worry about whether or not you are maintaining your pool properly. We have the experience and expertise to always keep your pool safe and ready to use.
So this swimming season, forget about maintaining your pool on your own. Aqua Buddy can take care of everything!