Want to Make Your Pool Look Epic? Add a Design to the Bottom!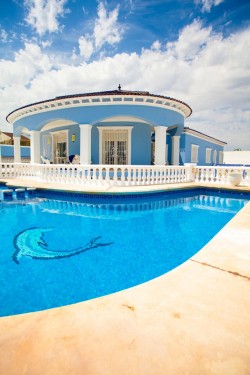 There are swimming pools. Then there are SWIMMING POOLS!
If you want your home's backyard swimming pool to fall into the former category, then you should consider adding a customized design to the bottom.
Painting a Design on Your Pool
A personalized design added to the bottom of your pool can convert your backyard from the ordinary to the amazing. Styles to consider include aquatic animals such as dolphins or whales, your family crest, or any type of design that has significance to you and your family and friends.
Designs can be painted onto cement using special paint that won't be worn away by the chemicals in your pool. Or for a truly dramatic effect, you can commission a ceramic artist to design a pattern into the bottom of your pool in tiles.
Taking Your Pool to the Next Level
If you want your backyard swimming pool to look like those found at the most exclusive private homes or the most recognized resorts and spas in the country, simply adding a design to the bottom of your pool can truly take it to the next level.
Your guests will be amazed and surprised by how elegant and exclusive your pool looks when you include a personalized design on its bottom surface.
Create a Theme
The design you choose can serve as a motif that can be repeated in other design elements of your backyard. For example, if you have a dolphin painted onto the bottom of your pool, you can include the same dolphin design on your pool furniture and decorations.
Even the glassware and cutlery you use near your pool can refer to the design and color scheme featured on the pool's bottom.
Adding a design to the bottom of your pool will give your backyard class and elegance that will impress your guests and set your home apart.