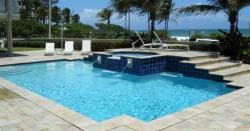 If you own a backyard pool then you understand the challenges that go with being a pool owner. You need to regularly clean the pool of debris to prevent leaves and other objects from damaging or clogging the filter. You need to consistently maintain safe swimming water by performing water tests. You may have to use various chemicals to adjust water levels. These are just a few of the tasks that you have to deal with on a regular basis. Luckily, you avoid having to perform any of these tasks by hiring a pool service in Pompano Beach. Along with simplifying your life here are a few of the top reasons that for hiring a pool service Pompano Beach.
Properly Open and Close Your Pool Each Season
One of the most cumbersome pool maintenance chores is opening and closing the pool each season. At the end of the season, you need to partially drain your pool water, remove and clean your pool equipment, and secure a pool cover. At the start of the season, the process is reversed. After filling your pool and reconnecting your pool equipment, more water testing is required to return the water to safe levels.
A professional pool service will handle this process. They can ensure that your pool is properly closed at the end of the season and then get your pool ready for the warm weather in the Spring time.
Maintain Your Pool and Pool Equipment
When you have a pool service arrive at your house on a regular basis you can easily maintain your pool and your pool equipment. Professional pool technicians will thoroughly inspect your equipment and ensure everything is working properly. They are also likely to detect any issues before they become a major problem. This could include cracks or leaks in the lining of your pool or damage to your pool filter. Discovering these issues early will help cut down on the costs of repair.
The bottom line is that a pool service provides a great way to keep your pool in working order for years to come. If you have not already hired a pool service you should consider calling a local Pompano Beach pool service.