Elements of the Perfect Pool Party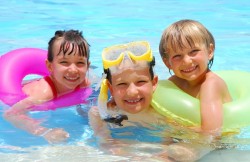 Now that summer is finally here in full force, it's time to start thinking about throwing a pool party.
Your backyard swimming pool is the perfect setting for a summertime party. Invite your family, friends, and neighbors to some fun in the sun around your clean, attractive backyard pool.
To get the party started, here are some essential elements to a fantastic backyard pool party.
Pool Service Fort Lauderdale — Great Guests
Like any party, your backyard pool bash will only be as good as the people you invite to attend. Call up your best friends, your friendliest neighbors, and your most beloved family members and invite them to have fun around your pool.
Pool Service Fort Lauderdale — Pool Party Menu
Make sure there are plenty of good things to eat and drink on your pool party menu if you want to ensure your guests have a great time.
While eating in and around the pool isn't a great idea, if you set up your backyard barbecue grill nearby, your guests will be able to delight in a delicious dinner before taking a plunge in your pool. Just be sure to provide plenty of napkins.
Pool Service Fort Lauderdale — Drinks
It's summer. It's hot. People are going to be thirsty.
Make sure you provide plenty of water, soda pops, and other deliciously refreshing drinks for your guests. For the grownups, you may want to provide beer and wine or invite your guests to bring their own favorite libations.
Pool Service Fort Lauderdale — A Clean, Safe Pool
Most importantly, if you are going to invite your family and friends to spend time in your pool, you will want to make sure it is 100% clean.
At Aqua Buddy, we will clean and maintain your pool according to the highest standards of cleanliness and sanitation. We can service your pool before and after your pool party to ensure your friends have the best time ever!