Dress Up Your Deck with New Pool Furniture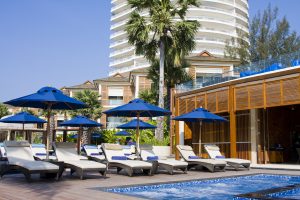 If you are tired of the way your backyard swimming pool area looks, maybe it's time to make a change. While it's not usually practical to replace the pool itself, you can improve the way your deck looks by investing in some new pool furniture.
Dressing up your pool area with new furniture can bring new life to a tired, worn area of your home. With simply a few new deck chairs, a new table, and a new umbrella or two you can transform your boring old backyard into a lively area where your family, friends, and neighbors will want to socialize.
Pool Service Fort Lauderdale — Now's the Time to Buy
Autumn and winter are the best time to shop for new pool deck furniture because pool supply stores are clearing out their existing inventory to make room for new styles that will arrive in the spring.
You can benefit by getting the best prices of the year while still having your choice of the top brands and latest designs. Plus, unlike the crowded spring and summer sales seasons, most pool supply stores are likely to be less crowded this time of year.
Pool Service Fort Lauderdale — Fall in Love with Your Pool Again!
If you have visited a fancy resort or exotic destination lately, you may have noticed that there is something of a pool design war going on. The best hotels and the fanciest resorts are trying to outdo each other on the lavishness of their pool areas with high-end pool furniture and design.
See something that you like? Why not try to replicate that same luxurious look right in your own backyard? Pool furniture typically isn't as expensive as other types of furniture, so in all likelihood, you can afford to create the look you want without breaking your budget.
New pool furniture is the fast, simple, and affordable way to breathe new life into your backyard.