Among Boca Raton Pool Cleaning Services, We're the Chemical Experts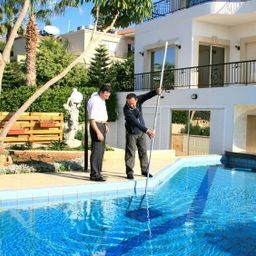 At Aqua Buddy Pools, we don't want our clients to have to worry about their backyard swimming pools.  That's our job.
As one of the leading Boca Raton pool cleaning services, Aqua Buddy Pools' swimming pool technicians will clean and maintain your pool so that it always is in optimal condition for the enjoyment of your family, friends and invited guests.
We're the experts when it comes to cleaning and maintaining pools so you don't have to be.
Boca Raton Pool Cleaning Services — Technical Terms
Our highly skilled professional technicians will measure your pool's total alkalinity, test the pH levels, and monitor its calcium hardness. We'll also keep tabs on the free available chlorine.
These are technical terms that can affect the way your pool looks. For example, total alkalinity is the ability of your pool's water to resist changes in the pH. If total alkalinity is too low, the pH level will be overly sensitive and could change too quickly. We can control low total alkalinity by adding a pH decreaser.
If the total alkalinity is too high, it can make your water cloudy and promote scaling. Our technicians can control high total alkalinity by adding muriatic acid.
Boca Raton Pool Cleaning Services — Chemistry Class
Even if you slept through most of your high school chemistry class and aren't familiar with the Periodic Table of the Elements, it doesn't matter when Aqua Buddy Pools is on the job.
We'll measure, maintain and control the chemicals in your pool so that they are always optimal.
For example, we help control hard water, which contains excess calcium and magnesium, chemicals that can be left behind as your pool water evaporates.
If your calcium hardness level is too low, we can add a calcium hardness increaser. If it is higher than 250 parts per million, we can add a scale and stain control product to prevent scaling.
The bottom line is that the pool technicians at Aqua Buddy Pools have the knowledge and expertise for dealing with the chemicals in your pool so that you never have to worry about a thing!