5 Ways to Make Your Home Pool Look Like a Luxury Resort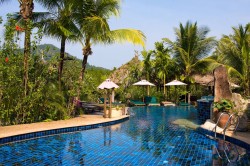 Have you ever had the experience of staying at a luxury resort, sitting by the pool and thinking, "Why doesn't my home swimming pool look like this?"
Five-star resorts usually are the product of professional designers who are working with a budget that far exceeds the typical homeowner's. Still, there are a few little tricks you can use to make your backyard pool look more like a luxury resort's.
Build a Cabana
Resort guests will pay high rental charges just to have their own private cabana while they relax by the pool. But you can build your own cabana using materials found at the local home improvement store.
Tiki Torches
Another exotic touch is tiki torches. These often can be found in the backyard furniture department of your local improvement store, especially around the beginning of summer.
Tiki torches create an island mood. Plus, they have the added benefit of helping keep mosquitos and other bugs away on hot summer nights.
Upgrade Your Pool Furniture
One of the things that sets five-star resorts apart is the quality of their furniture. If you are still using plastic furniture or inexpensive tube and vinyl lounges around your backyard pool, consider upgrading at least a few pieces to something better.
Add a Few Palm Trees
Nothing says you're on vacation more than palm trees. If you live in a warm weather climate where palms will flourish, consider adding a few to your backyard pool area.
If you are in a colder area that actually has freezing winters, you can get some fake palms or potted palms that can be moved indoors when the weather gets too cold.
Keep Your Pool in Top Condition
The best way to make your backyard pool seem more like a luxury resort is to keep it maintained so that it's always in optimal condition. Our professional pool cleaning maintenance and cleaning services can handle this for you.