Is Your Pool Drain Safe? In compliance with the new Virginia Graeme Baker Pool and Spa Safety Act which was put in place to enhance the safety of swimming pools, spas and hot tubs. This Act sets federal mandate that suction and entrapment devices be changed to become in compliance with the new Act. This includes new pool drain covers in addition to many other changes and requirements that must be met under penalty of the law. Hayward is one of those companies that take your safety s...
Read More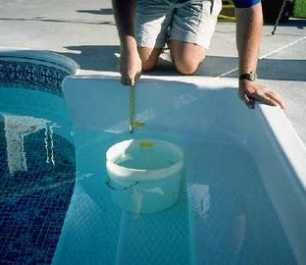 Evaporation is dependent on a variety of environmental and pool related conditions, (wind, water temp, dew point, barometric pressure, and other to a lesser extent). Because of this the evaporation rate can vary greatly from day to day and even pool to pool. Before becoming too concerned about a leak you can do a simple test to determine if water loss in your swimming pool is due to a leak or is just evaporation. This simple test is called the bucket test. Leak Detection Bucket Test Pro...
Read More

Our service technicians, mechanics and specialists know exactly what to do when a repair is needed. With a wide range of expertise, Aqua Buddy specialists are able to diagnose, and solve problems quickly and effectively. Request an estimate for a repair and we will provide you with  a relevant and fair estimate. For existing customers, there is an EMERGENCY 24-HOUR line available for repair requests. EXPERT ON-SITE REPAIR SERVICES FOR: PUMPS – MOTORS – HEATERS – FILTERS – LIGHTS – J...
Read More
Expert Consultation  Energy Solutions, Pumps, Filters, Heaters, Cleaners, Controls, Chlorinators, Lighting, Valves, General Pool & Spa, Equipment & Products. Give us a call today to schedule a FREE consultation for your swimming pool or spa equipment.
Read More

Maintenance Premium Full Service Pricing Upon Consultation No ContractsTotal Chemical Balance (According to Florida's Dept. of Health) - Vacuum Pool - Brush tiles, steps & pool sides - Wash & Clean all baskets - Skim Surface of Pool - Equipment Inspection - Clean Filter - Set Timers - Algaecide Treatment Incl. - 1-7 Days a Week - Custom Plans Never have your commercial pool closed by the Health Department again! Aqua Buddy has a vast ...
Read More